We all have them. That one friend we look to for inspiration and vision.
For me that's Bob Hannaford.
I've known Bob for over 9 years. I was introduced to him by my husband John. John and Bob have worked together on a ton of projects. Each joint effort was done to provide an amazing event for the swinging community and to reach new open minded couples looking for a place to explore their own authentic sides.
John and I have traveled with Bob and his amazing wife Tess multiple times and I know without a doubt I could call Bob night or day and he'd be there for me. With this being said, I was floored when I read a post Bob made on June 1st on his Naughty In N'awlins site.
He posted a blog detailing his years as a bi man.
For decades he'd kept this side of himself secret, even from his wife Tess.
The catalyst for his announcement came when his 11 year old granddaughter announced she was trans. They now have a grandson. It would be the courage of his grandchild that would free Bob from his own restriction.
Reading his blog left me sobbing. My tears falling like a thunderous storm. I know my empathy for others can be off the charts at times, but Bob's revelation had me wailing like I'd just lost a family member. What was that all about?
The thought of my friend hiding a side of himself broke my heart. I'd known this man for almost 10 years and had grown to love him and the message he'd spent decades getting out to the masses.
As owner of Naughty In N'awlins, his reach in the lifestyle community had been broad. I admired him and always marveled at his calm, cool demeanor. To find out today that lurking beneath all the wonderment of my beautiful friend was a truth too difficult for him to reveal until today made me want to reach out through the miles and give him a huge love filled hug.
You know sometimes you can't imagine loving someone more than you already do and then they peel back another layer, revealing even more authenticity and there it goes. There goes love traveling even deeper. You love them more because of their honesty. Because of their truth. Because of their transparency.
Yes, they have said out loud who they are. They've made this announcement for themselves. A personal preservation of sorts. A way of getting to their own truth in loving acceptance. But the other side of this verbal truth is the trust he has in all of us.
What an honor!
My friend's legitimacy of self has opened up a channel for me to love him even more. This is the beauty of authenticity.
If we could only remember how our own credibility and validity in how we live our lives will impact others. Of course, this transfer of courage isn't always something we're thinking we aren't telling ourselves, "if I come out, my transparency will help others."
Hell, oftentimes coming to terms with our own truth is, struggle enough. It's only when we've reached our own mountain top that we see all the others looking up. Just like Bob's grandson was his beacon, so will Bob be for others.
Thank you Bob for loving and accepting such a wonderful person…you.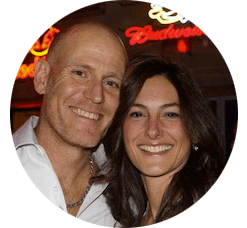 John and Jackie Melfi are in a consensually non monogamous marriage. They have been featured in ABC News Nightline Special Report "Getting Naughty In N'awlins", Inside a New Orleans Swingers Convention, and CNN "This Is Life" with Lisa Ling. The Melfis are the force behind the industry famous colette swingers clubs in New Orleans, Dallas, Houston, and Austin. With over 20 years of combined experience, this powerhouse couple coaches thousands of singles and couples through their award winning blog Openlove101.com.