Yes, you can be a swinger and be single. John and I see singles attending our clubs (http://coletteclubs.com/) every "single" week! I love seeing these men and women break through their own barriers to try something different.
Recently, an incredibly nervous, yet kind gentleman visited our club. He was newly divorced after many years of marriage and this was his first time in a swingers club. While it was apparent he was apprehensive, you could also see the energy and thrill of doing something completely outside the box radiating through him. This man was spreading his wings—he was trying something new.
I think it can be especially easy to want to pigeonhole the single swinging man. Yes, there are those single men who've painted a broad stroke of negativity regarding their behavior in the swinging community. These single men just never seem to get it through their head (the one sitting on top of their neck) that lurking, touching or your everyday creepy conduct isn't going to achieve the positive outcome they're expecting.
But, I think it's important to remember that some of the men attending a swingers club may be similar to that single man who attended our club; they might be recently divorced, widowed or lonely and are hoping to find a partner who also truly sees the value and comradery of the swinging lifestyle and community.
I know when John and I struck up a conversation with the single man in our club, it didn't take long for him to reveal his uneasiness. He seemed to gravitate towards John and was quick to ask him for advice and what was expected of him while in the club. There was even a moment in our conversation where I remember looking at this man and a wave of empathy rushed over me. It wasn't all that long ago that I too experienced those same pangs of nervousness. But I also felt a sense of accomplishment for this man. He had braved the moment and decided to do something for himself, maybe the first thing for himself in a long time.
John and I caught glimpses of him throughout the evening. At one point, we saw him dancing with a single woman. We probably watched them longer than we should have, but we couldn't help ourselves—they both had the biggest smiles on their faces and were thoroughly enjoying themselves—John and I are so happy and humbled when this magic happens in one of our clubs.
Single swinging women face a different type of objectification, and I for one couldn't be prouder of them braving the waters and surging into the swinging community. These women recognize their value and embrace what they want from life. They'll no longer accept or be victim to societal stereotypes—no more apologies, no more minimizing their sexuality and no more feeling guilty. These women own it and I love it! They're proud and strong and enter the lifestyle with a wonderful sense of self-respect.
Women, me included, know what it's like out there on a daily basis. I'm proud to be part of this group, a movement that rejects the onslaught from media, society and religion attempting to make us feel less than what we are. We know what it's like to be told we shouldn't be interested in sex or that we shouldn't dress too sexy or ridiculed if we dress too homely. We've been taught to feel guilt about anything and everything to do with sex. No sex…you're a prude. Too much sex…you're a nymph.
Seeing or hearing about this transformation is what makes owning swingers club and the Openlove101 site so rewarding. Those moments when we hear, "I watched the videos and they gave me the courage to come to the club!" I love it! I love that John and I are able to put to rest the initial fears of countless women conflicted about attending a club as well as encourage those recently single men who want to spread their wings.
To witness timidity progress into full determination is awe inspiring. The metamorphosis of an individual shedding the skin of docility and apprehension in exchange for the wild exploration of self is amazing! These are the moments in which we tell our brain and our ego to take a back seat to what's in our hearts and whole being, to what we truly know, not simply believe.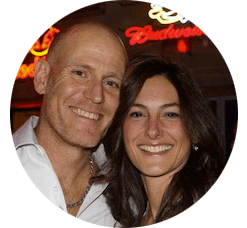 John and Jackie Melfi are in a consensually non monogamous marriage. They have been featured in ABC News Nightline Special Report "Getting Naughty In N'awlins", Inside a New Orleans Swingers Convention, and CNN "This Is Life" with Lisa Ling. The Melfis are the force behind the industry famous colette swingers clubs in New Orleans, Dallas, Houston, and Austin. With over 20 years of combined experience, this powerhouse couple coaches thousands of singles and couples through their award winning blog Openlove101.com.