Learn More About Us and
the Swinger's Lifestyle
Our mission is to inform, educate and provide conversation for anyone interested in a more open relationship with their partner. To further foster a community of open-minded, sexually motivated adults who want to experiment in love and sex.
Join the Openlove101 online club and get exclusive content, private Q&As, giveaways, and more. No spam, JUST LOVE.
Jackie grew up in the great state of Kansas. She is the oldest of 3 siblings. As Jackie puts it, she grew up in what would be considered a very traditional household. Dad worked, Mom stayed home, they attended church 3 times a week, and she was very involved in school.
"I grew up pretty normal. I had great relationships with my extended family, had a stable home life, and would have been classified as a Daddy's girl!"
After high school Jackie attended the local college where she met and fell in love with her first husband. "He was older and seemed so worldly to me." They married within the first year of meeting. "We were this cute little young couple and we didn't waste anytime starting a family…we had four children in five years!" Needless to say Jackie found herself in the housewife role (a roll that she still loves and respects to this day) with her husband bringing home the "bacon." This union came to a close after almost eleven years.
Jackie's second marriage produced another beautiful child and a stepson to the mix. Jackie also found work outside the home (in the banking industry) during this phase in her life. "I remember being very determined to make this marriage work." It did work…for 18 years.
"I remember thinking after my second divorce that there must be something wrong with me. After taking a life coaching course and some real soul searching I came to realize that what was "wrong" with me was that I was not living my true self. I kept conforming to what I thought others wanted me to be. Once I realized I could take complete responsibility for what ever type of life I wanted and be the one to say yes or no…was probably one of the most liberating experiences in my life !"
So with a little trepidation Jackie dipped her foot back into the dating pool. This time though she was coming from a more true sense of self. Jackie believes it was through this "wholeness" that she was led to John. "John and I had actually attended the same high school. We had even double dated to a high school dance our Junior year." The connection was instantaneous. "We started talking on Facebook, which led to a phone conversation. Within six days John traveled back to Kansas from his home in Florida and the rest they say is history!"
"I would say the biggest change to take place to date was that I really took inventory of my belief system and how I was told things were supposed to work. I always felt more "free" then what my upbringing taught so I was usually in conflict with my thoughts in relation to those beliefs. I was loyal to those beliefs yet I always felt something was missing." "It wasn't until I met John and was introduced to the lifestyle (it was and is his business) that everything in my life finally felt like it was falling into place. I was free to not only love and cherish myself and my husband but I was allowed to express myself sexually in a nonjudgmental environment."
John also grew up in Kansas which is where he met Jackie…they went to high school together. John moved to Florida just after graduating in 1982. His first 3some experience took place his first night in Tampa. He went out to a nightclub and was taken home by 2 girls. "People are always asking me when I got into swinging. I refer back to my first threesome in Tampa…I didn't even know what a swinger was. I just always felt open minded.", says John.
He worked in advertising and marketing for many years and then in the early 90's started moonlighting as security at a concert venue in Tampa. It didn't take long for him to resign from his corporate job and began working in night clubs full time. In 1995 he opened his first nightclub in Atlanta and since then has been designing, managing and operating what are commonly known as "swinger" clubs.
Together, John and his wife Jackie have coached and counseled countless thousands in deciding if the open lifestyle is right for them. They help others by sharing their personal experiences and knowledge from what they have seen in the club. Today the Melfi's share their time developing new clubs, coaching couples and singles, writing and serving as experts in the media.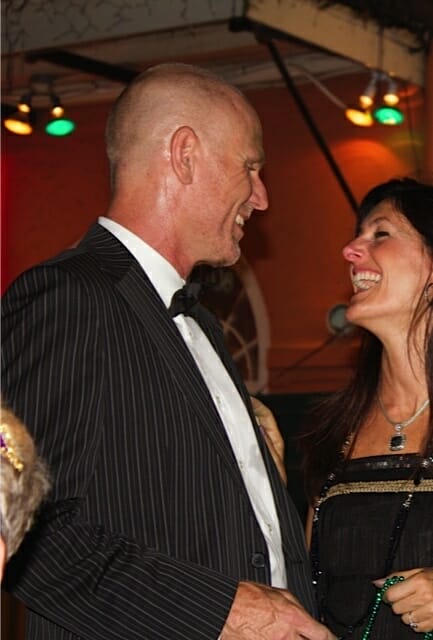 "We had the chance to work with John & Jackie one on one. Let's be real…life is all about relationships. Finding someone you can trust to help you navigate the ins and outs of any relationship that you value is a huge decision. After following John and Jackie for a few weeks we scheduled and had a group phone call with them. Just from that short phone call we knew we wanted the chance to work with them personally.

The experience was magical. They are both down to earth and real people. Their willingness to listen then relate their real world experience carved the path we needed to take our relationship to a level most couples will never experience. If you get the chance… find a way to let this amazing couple open your eyes to what could be if you are willing to be open up and learn."
"It's hard to put into words what the Melfi's have done for our marriage. It's not just the improvement in our sex lives that made the impact, it was the communication and shared vulnerability that not only helped our marriage, but freed us to be more confident and open with each other."