For those of us who've gone through the process of menopause, we know all too well the complications/changes/challenges that can befall us. The night sweats, the vaginal dryness, decreases in our libido, are just some of the obstacles we are faced with during this trying time. Not long ago, I received a heartfelt email from one such woman at the threshold of pre- menopause, she reached out for help.
"Dear Openlove101,
My name is _______. My husband and I have been discussing entering the lifestyle, but I am concerned about something I have not seen you write about: peri menopause/menopause. I'm 47 years old and I'm still extremely sexual but I am going through peri menopause, actually starting last year around the time I turned 46. I'm an amazing lover, but sometimes my mind has to work a little harder to compensate for my body not responding like I want it to. I am so fearful and angry that the beautiful light of my sexual prowess will diminish or be extinguished. What words of advice can you offer. I am so looking forward to our new adventures in the lifestyle but holding back because of this issue. Looking forward to hearing from you."
This woman was right, I hadn't discussed this issue. A process I'd gone through years ago. I quickly responded to her question with my own trials, tribulations and successes in going through menopause. I wanted her to know I heard her and wanted to make sure she wasn't alone.
In researching her question I found this great article discussing the signs of menopause, possible treatments, how to handle the change personally and with your partner and how to stay positive while our bodies go through this modification.
But, how are women in the lifestyle handling this transition? What steps were others taking to relieve their symptoms? Why weren't those of us in the lifestyle talking about this inevitable change? Was being in a consensual non monogamous relationship a benefit to those going through menopause?
I decided to reach out to our Openlove101 audience for help. Would those in the lifestyle be eager to come together to answer this woman's questions? Would the women of the lifestyle show her the importance of our "sisterhood" by sharing our own challenges and successes? And what about the spouses/partners? Would they too share the process from their angle?
I trusted that yes we would all join forces to help each other and this is why I came up with a brief survey/questionnaire (whether you or your partner has gone through menopause) to hopefully get a picture as to how those of us in the lifestyle have handled the issue of menopause.
While the survey will not win any scientific awards, I AM hoping it will shed light on a subject not often discussed. This survey is for both the women who are or have gone through menopause, and their partners.
I know from my own personal experience, John was pivotal in my journey through menopause. He noticed behavior changes that I couldn't see and it was through his patience and understanding that our sex life was able to remain vibrant and very much alive.
We've set up a portion of the questionnaire in a multiple choice style, but for those of you who love to write or do not see an applicable option listed, we want you to expand. Again, this is for both women and men to answer. This questionnaire will remain private in the sense that no names will be divulged.
To see the results of the survey and the follow-up to this post, CLICK HERE.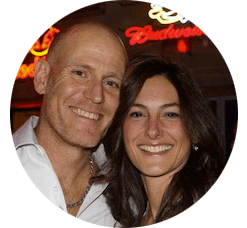 John and Jackie Melfi are in a consensually non monogamous marriage. They have been featured in ABC News Nightline Special Report "Getting Naughty In N'awlins", Inside a New Orleans Swingers Convention, and CNN "This Is Life" with Lisa Ling. The Melfis are the force behind the industry famous colette swingers clubs in New Orleans, Dallas, Houston, and Austin. With over 20 years of combined experience, this powerhouse couple coaches thousands of singles and couples through their award winning blog Openlove101.com.