It was just a normal Sunday like any other Sunday. I was feeling horny and wanted to do something a little different from the normal routine. I wanted to do something to make this Sunday a memorable one for Jackie. I decided a threesome with another guy would be fun, but what would make it really interesting is if I could surprise Jackie with someone new—a stranger.
There are various ways to go about finding someone. One of my favorites is craigslist. Jackie and I were sitting on the couch drinking coffee and having our morning discussion about various topics in the news, the great time we had at the club the night before and article subjects we were considering writing about.
Unbeknownst to her, I was scanning the craigslist personals…casual encounters…M4MF. There are many men looking to hook-up with couples there, and most of them are real people. If you want to find a woman to hook-up with, you have to wade through all of the fake ads trying to get you to buy ID verification memberships or lead you to porn sites. But not so much with guys.
I found a few prospects looking to hook-up that day. Most have pretty good pics and short bios. I chose a few and sent them emails with an obscured picture of my sexy wife. They all responded and were up for the task. All of this was going on while Jackie was sitting five feet away from me showing me pictures of houses for sale on Zillow.
I narrowed it down to a guy who seemed well mannered and experienced with threesomes. Experience can be important. Sometimes guys who've never been with a swinger couple before get nervous. They'll ask a lot of questions leading up to the encounter and then might chicken out before you even meet them, or they might have anxiety in the heat of the moment, which can be awkward.
I chose Mr. X. We corresponded via email for a few minutes. I felt that he was safe and gave him my number so we could text. It was 2:22 in the afternoon when we started texting, deciding on the particulars.
He sent me another picture and I could tell that Jackie would probably like him…his looks anyway. The plan was for me to get Jackie in the bedroom and start making love to her. While we were in the middle of being passionate, Mr X would let himself in through the unlocked door, quietly make his way into the bedroom and join in. Timing was important here. If he arrived early, it wouldn't have the same effect; if he showed up late, well, I guess we could talk for awhile and then get going again. For my fantasy to come true though, he would need to show up while we were getting hot and heavy.
At 2:26 I texted our address and 20 minutes later he responded that he was getting ready. I let him know the door was unlocked, to come in, turn right and walk into the bedroom. I thought he would arrive pretty soon, so I started fooling around with Jackie and let Mr. X know. At 2:51 he texted, "Do me a favor, hang something on the doorknob so I know it's you. Walking into a house for the first time I want to make sure it's the right one."
What a great idea! When my phone alerted me to his text, I told Jackie it was work related so I could answer it. Normally I leave my phone off or ignore it when we are making love, but I needed to make sure Mr. X didn't have issues finding our place. I gave her an excuse to get up and grabbed a souvenir from Cuba, a Che Guevara/Cuban flag that normally is hung on the rear view mirrors of Cuban cars. I hung it on the door knob and ran back to the bedroom.
At 3:00 I texted him, "On the way?" I was getting nervous. He said he was walking out the door. Thirty minutes went by. I was going nice and slow, taking my time with Jackie, but starting to get a little anxious that he wasn't going to show up. And then at 3:40 he walked into the bedroom and started caressing Jackie.
The moment of truth. Is she going to freak out? Give me dirty looks? Not like him? Or will she enjoy the moment?
It turned out even better than I expected!
They got along great…we all did. He and I had a great time making Jackie the center of attention. We fooled around for a couple of hours, and he and Jackie spent some time getting to know each other better. It's always nice when plans turn out the way you imagine. I'm looking forward to making this type of Sunday the "normal routine"!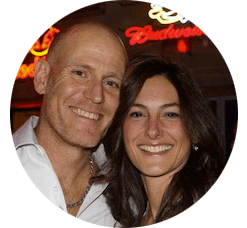 John and Jackie Melfi are in a consensually non monogamous marriage. They have been featured in ABC News Nightline Special Report "Getting Naughty In N'awlins", Inside a New Orleans Swingers Convention, and CNN "This Is Life" with Lisa Ling. The Melfis are the force behind the industry famous colette swingers clubs in New Orleans, Dallas, Houston, and Austin. With over 20 years of combined experience, this powerhouse couple coaches thousands of singles and couples through their award winning blog Openlove101.com.