John and I had a fantastic opportunity to check out the all inclusive Hedonism II resort in Negril, Jamaica. We spent 7 adventurous days and 6 glorious nights enveloping ourselves in the Hedo experience.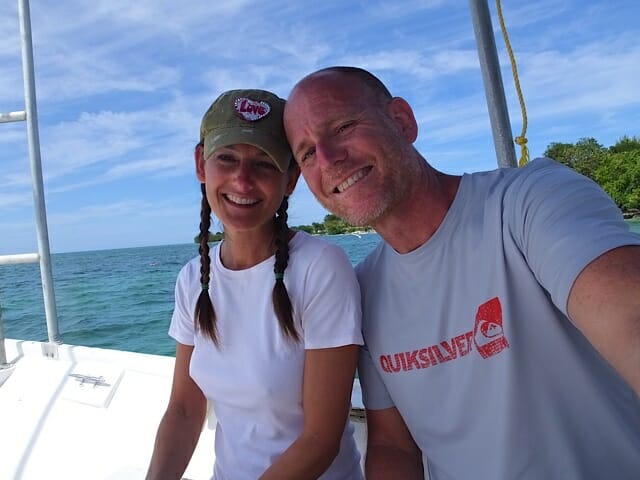 We arrived in Montego Bay, Jamaica (American Airlines offers non stop flights from Dallas) and made our way to the
Hedonism II
counter within the airport. We had reserved through Hedo, transportation (for a small fee) from the airport to the resort. The bus ride from Montego Bay to Negril takes about an hour and a half. I know that may sound like a long ride but it provided a great way to be introduced to the sights of the island. We passed through various little villages as we made our way along the coast. Upon arrival to the resort we were greeted by a friendly staff and were offered a refreshing drink in the lobby.
Hedonism II resort is glowing with pride, as evidence of its ongoing improvements were bountiful. The stunning courtyard complete with giant lawn chess sets, intimate seating, free wifi, and access to the gift ship, piano bar, wine bar, and casino enticed us to explore.
Our private balcony suite not only provided a tempting view of the water but ample space to unwind, The room was equipped with wifi access (for a small fee) flat screen TV, safety deposit box, coffeemaker, refrigerator, air conditioning, plenty of storage space, and as an added bonus, club like LED lighting behind the mirror on the ceiling above our bed (my favorite feature by the way) just to list a few.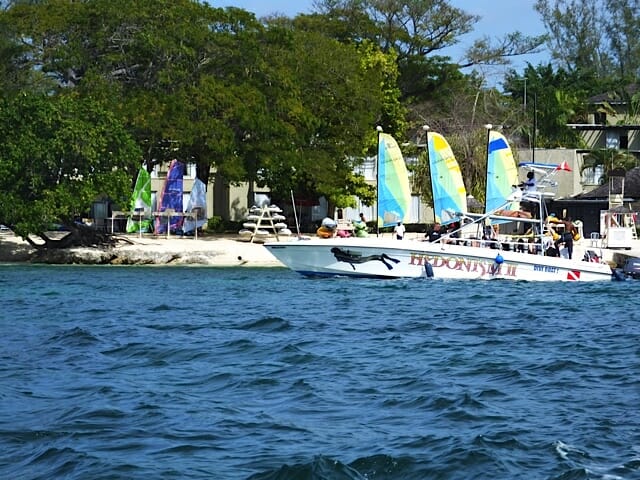 The bathroom was modern not only in fixtures but design. The shower featured a glass encased area (providing a view of the room) with both handheld shower head and a rain style shower head. We had the convenience of dual sinks with ample space for toiletries. Since John tends to be what I like to refer to as a room "snob" the fact that the room and bathroom met with his standards is really saying something!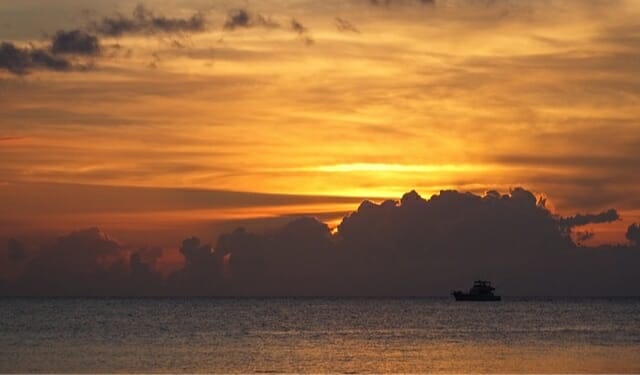 It didn't take John and I long to disrobe and head straight to the beach. I love nothing better then a leisurely walk along the shore hunting for seashells and I was not disappointed. The resort offers a nude beach in conjunction with a clothing optional beach…offering its guests the best of both worlds! The resort offers countless lounge chairs with big umbrellas sporadically spotting the beach. In addition they also offer a roped off area within the cove in which to safely relax on floaties in the sea (which I did daily). The beach area also provides a number of swimming pools and hot tubs plus access to open air bars and restaurants.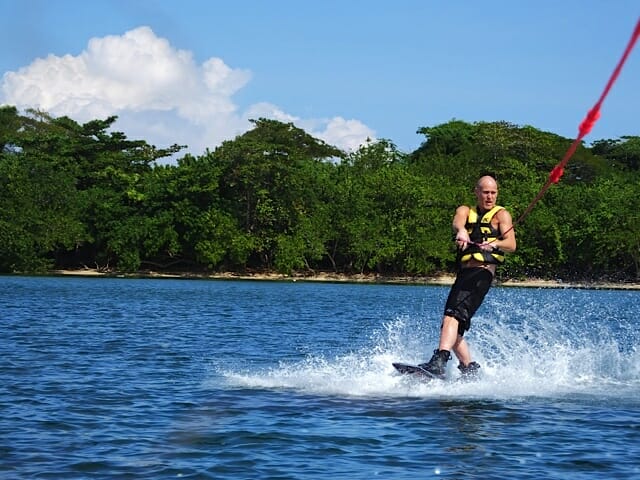 We filled our days, snorkeling (inclusive to the resort) which I hadn't done in years and was pleasantly surprised by the beautiful reef just a few minutes boat ride from shore. We also spent a few days sailing (also inclusive to the resort) I have been on boats before but have never gone sailing, what a peaceful yet invigorating time on the water!. John and I even made arrangements to spend a morning wake boarding and water skiing (this option was separate from the resort) and listen up boys and girls, if you have never skied before make sure you get that butt of yours up and out of the water, cause believe me all that water is going to go somewhere! John and I also carried out a wonderful relationship with doing absolutely nothing but laying on lounge chairs, soaking up the sun!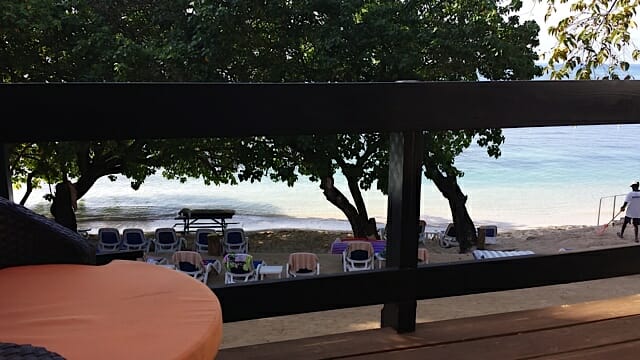 Now onto the food and drinks. I should probably point out first of all that John and I are vegan so I won't be able to provide a review of any of the meats or seafood, but I can brag on the abundance of fresh fruits and vegetables provided by the resort. John and I enjoyed our meals in the al fresco styled buffet restaurant. The buffet area boasted several food "stations" in which to choose from, satisfying and catering to all eating styles. The atmosphere was relaxed with plenty of room to move between stations. We were also impressed with the availability of the chefs in catering to our needs…they even made us a special vegan dessert one evening!
The drinks of course flowed as though from a spring…everything from water and coffee to whatever your imagination could conjure up in a glass. I sampled a few of the more fruity drink options available and was delighted by the refreshing flavors.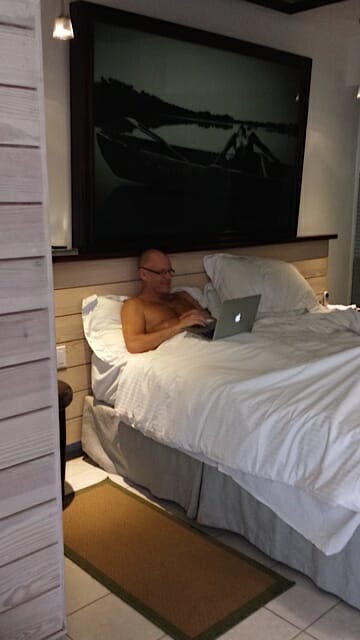 Our evenings were stimulated by the live entertainment the resort provided. Each evening was a different theme and everyone seemed to have fun participating in the festivities!
The week that John and I spent within the resort also happened to coincide with a swinger takeover. We were able to spend quality time with numerous like minded couples (and a few singles) who like us enjoyed not only the beach setting but also the sexy atmosphere! We reconnected with old friends and reminisced…we met new friends and made new memories.
I feel the need to point out that usually John and I are the ones to venture outside the lines and explore all there is to offer when we travel to a new place, but this trip was so enjoyable within the confines of the resort we really didn't feel the need or desire to leave it! So I take my hat off (and clothes) to this most pleasurable of experiences and I can say with confidence that we are already thinking about our next trip to this breathtaking resort and taking advantage of some of the excursions offered by the resort, because one visit just isn't enough!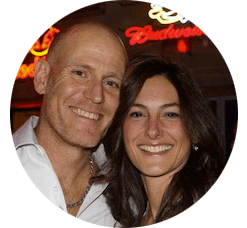 John and Jackie Melfi are in a consensually non monogamous marriage. They have been featured in ABC News Nightline Special Report "Getting Naughty In N'awlins", Inside a New Orleans Swingers Convention, and CNN "This Is Life" with Lisa Ling. The Melfis are the force behind the industry famous colette swingers clubs in New Orleans, Dallas, Houston, and Austin. With over 20 years of combined experience, this powerhouse couple coaches thousands of singles and couples through their award winning blog Openlove101.com.