John and I had a beautiful in depth conversation about working through jealous feelings this morning (probably because he had his "date" last night). I talked to him about the process I went through in allowing myself to feel whatever I was feeling in regards to him being out. This gave me the opportunity to see what if anything bothered me.
At one point during the evening I began to feel a kind of burning in my chest. I took that "burning" and zeroed in on what was creating that pressure. Was I upset that John had made plans to spend time with his female friend? Wasn't it enough that John had spent the day with me today and yesterday, and the day before that, and the day before that, and on and on? "So no, I guess that wasn't it."
Was I upset because John had made plans for a date? Would I have said yes to a date if he had asked me? (he had made his plans around 6:30 in the evening). No, probably not. I was all comfy plus I had actually planned on spending some quality time that evening with my daughter. So that wasn't it either.
Was I upset because I wasn't involved in the evening? What makes me think I'm not involved? Isn't John going to come home all excited about his night out and be anxious to share with me everything that happened? Won't he also be anxious to make love to me and tell me how much he loves me and how thankful he is that he can be his authentic self? So apparently it's not that either. If these things aren't the reason, then what WAS my fear doing? Was my fear keeping me from wanting my husband's happiness? Was it keeping me from admitting that I actually enjoy hearing about his evening?
My fear will tell me I have to be his physical "center" but that is a lie. My fear will tell me I'm not a proper, wholesome woman if I admit I like hearing the details of the evening…also a lie.
I laid in bed contemplating all these thoughts when it started to dawn on me that I was opening my self up to my fears. I was uncovering my eyes to look at what (I thought) was scaring me and you know what…it wasn't scary!!!
My fears (all this time) were unfounded. By taking the time to bravely face them I was actually causing them to dissipate before my very eyes!
I could be happy and share in my partner's joy. I WAS a part of what was happening. I didn't have to be physically by his side to see the value of the event. I realized that in the future when he goes out I could rejoice in my personal time by also spending that time really getting to know my most important relationship…the relationship with myself!
WOW, I actually made it through the evening and was okay!
I checked my phone, it was 11:03 pm…hmmm, wonder how his night is going? By 11:09 pm I had my answer…"I'm on my way home." I smiled.
Instead of spending my evening hidden under an umbrella of jealousy, I was wrapped up in the coziness of love. I couldn't wait to see John and wrap that love around him and tell him how grateful I am to have him in my life and as my partner. I couldn't wait to share in the evening's energy. To be strengthened by what was happening, to experience this growth, this harmony, this loving open.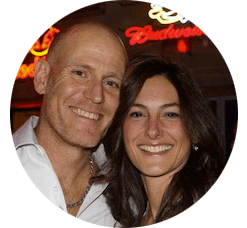 John and Jackie Melfi are in a consensually non monogamous marriage. They have been featured in ABC News Nightline Special Report "Getting Naughty In N'awlins", Inside a New Orleans Swingers Convention, and CNN "This Is Life" with Lisa Ling. The Melfis are the force behind the industry famous colette swingers clubs in New Orleans, Dallas, Houston, and Austin. With over 20 years of combined experience, this powerhouse couple coaches thousands of singles and couples through their award winning blog Openlove101.com.