John and I had talked in length about me having sex with another man. He spent a great deal of time trying to reassure me that not only would it be a huge turn on for him, but that making a fantasy come true was something he wanted to do for me! He had attempted to make arrangements in Tampa but I struggled with trust issues. I wanted to try it but struggled with thoughts like, would John actually stay with me if I did something like that? What about my own perception of being involved in something that wild and crazy! I mean I was raised in a conservative, christian household…would I even be able to follow through? What if I went up in a flame or turned into a pillar of salt? These were the thoughts I contemplated.
After plenty of support and weeks of discussion I finally gathered the courage to take a leap of faith and agreed to meet Rod (the gentleman we found on a social website). He was in town and staying at a local hotel. It happened to coincide with John's last night in town (we were still living in separate locations) and it just seemed like the right opportunity.
We made the arrangements, I spoke to Rod over the phone, and the next thing I knew John and I were on our way to meet him!

I remember being excited…I was going to be able to fulfill my fantasy! But by the same token I was fighting nerves and fear of possibly losing the man I loved more then anything! I decided in the car that I was willing to take responsibility for whatever happened, whether it turned out fantastic or was some type of test by John. 
When John and I arrived at the hotel, we were greeted at the door and exchanged introductions. I gave Rod a quick look over ( he was average height, weight, and a fantastic smile). I knew I would be able to do this at that moment. I had decided that regardless of John's reaction (even though I hoped it would be positive) I needed to do this for me. To feel my power, my life, my energy!

I sat on the bed and took off my shoes. Rod and John did most of the talking at this point. I remember John telling Rod that we loved each other very much and that we had a strong union (just the kind of affirmation I was wanting).
Rod sat down next to me with his Crown & 7 and put his hand on my thigh…it was electric! All of a sudden this rush of passion, excitement, adrenaline, whatever you want to call it flowed over me. John sat down at the head of the bed. I turned to look at John, almost for reassurance and he seemed to say to me with his eyes to go for it. I started kissing Rod. This was so powerful, something so erotic about kissing this man while the love of my life was only feet away. Rod started caressing my legs. I took his face in my hands and my kisses became more passionate. The next this I know Rod and I had laid down on the bed still kissing. Even though I am kissing and touching Rod I am totally aware of John in the room. Not only am I pleasing myself but I'm wanting to please John as well. I am actually gaining momentum from John's energy. Rod rolls on top of me and I just let loose. He is grinding against me and I am moving my hips to meet his rhythm. Rod is touching my breasts and legs and I am putting my hands down his shorts and grabbing his ass. I can hear John moaning and at some point John gets up and takes his clothes off. I unbutton Rod's shirt and I take my tank top off. Rod and I are skin against skin. I look over at John, he is rock hard and stroking himself. I undo Rod's belt and shorts, he climbs off me and pulls off my jeans. Here I am naked in front of my lover and a stranger and yet I feel alive, free, and natural. This is who I am! I am in a perfect place!

When Rod climbs back on top of me, I am surprised to find that when I grab him he is soft. He comments that he might be a little nervous. Again, I look to John for some guidance and he softly says for me to get Rod hard. I try squeezing Rod's cock and caressing his balls to get him going, finally John gets up and positions me on all fours on the bed. At this point John penetrates me from behind. Rod is facing me so I put Rod's cock in my mouth and proceed to give him a blow job all the while being pounded from behind by John. The pounding causes Rod's cock to slide in and out of my mouth in such a rhythm that before long he is hard and ready for me. I flop on my back on the bed and Rod puts his hard cock in my wet and ready pussy. John is still standing at the edge of the bed so I put John's hard cock in my mouth. Here I am, one man fucking my pussy and another "fucking" my mouth and even though I am consumed by both men, I am powerful!
Since I am sucking John's cock I can't see anything, but the men who are facing each other are enthralled with the view. Soon I hear Rod say he is going to cum, he pulls out and shoots all over my belly, this drives John over the edge, because the next thing I know Rod is standing beside the bed, and John had climbed on top of me. John is scooping Rod's cum into his hands and putting it my mouth and then kissing me. John puts his hard cock in my wet, just fucked pussy and is making love to me with a rhythm I am all to familiar with. I am overwhelmed at that moment with total and absolute love for John. I have completely surrendered myself to this man and I want nothing more then to touch him, taste him, be one with him. John lays down on me and Rod's cum is sliding between us. I am kissing John with consuming passion…I have never felt more connected to him then in that moment.

John leans down and tells me we can finish at home. I notice Rod watching John and I, it was so obvious at least to me and I'm pretty sure to Rod as well that John and I share a level of intimacy not every couple gets to experience. I felt so blessed in that moment by the passion and electricity shared between John and I. We finally get dressed, I kiss Rod goodbye, John and Rod shake hands and we leave. As we drive home we are giddy with excitement and high on the experience. Once home we immediately strip and John and I make love once more. We tell each other over and over again how much we love the other. We kiss and kiss and just hold each other.

For the first time in my life I love myself and what I'm doing…and as a result I allow myself to be truly loved by another.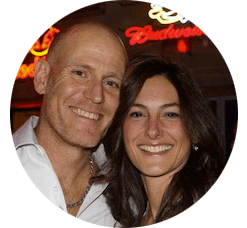 John and Jackie Melfi are in a consensually non monogamous marriage. They have been featured in ABC News Nightline Special Report "Getting Naughty In N'awlins", Inside a New Orleans Swingers Convention, and CNN "This Is Life" with Lisa Ling. The Melfis are the force behind the industry famous colette swingers clubs in New Orleans, Dallas, Houston, and Austin. With over 20 years of combined experience, this powerhouse couple coaches thousands of singles and couples through their award winning blog Openlove101.com.