As most of you already know, John and I own and operate a chain of swingers' clubs in the U.S. called colette. John has been personally and professionally involved in the world of swinging for decades, and I joined him in this adventure several years ago. One of my very favorite things about colette is all the patrons. John and I have the opportunity to visit with couples every single weekend at any one of our clubs, and what I have noticed lately is that there are more couples in attendance who have been married 20 plus years beginning to dip their toes into the swinging pool.
I love this! I love to see couples who have such a great bond and have taken the time to build a solid foundation that enables them to open up their marriage to alternative options including swinging. This was particularly evident a few weeks ago when John and I were at the club. I spent the entire evening talking with a few couples who were relatively new to the lifestyle celebrating decades of marriage.
I find this so intriguing, probably because John and I started our relationship swinging — we had an open marriage from the get go. So, I wanted to know, HOW did these couples embrace this lifestyle so wholeheartedly?! HOW did the topic of swinging even come up in their relationship? HOW were they dealing with things like jealousy or play partners?! HOW was the fear of opening up the relationship (if any) handled? I learned quite a bit that night.
The first couple I spoke to had a 20 plus year marriage, but they had only been swinging a few years. I immediately asked her, "So, how did the subject of SWINGING even come about?" She said that she and her husband had talked about fantasies and role played for YEARS.
In all those years their sexual relationship had been healthy and active, there was never anything taboo subject wise, and they had really learned to see the importance of keeping those lines of communication open in the relationship. This kept the marriage fresh and fun and allowed them to explore that wild side. One evening the subject of swinging made its way into their conversation. Again, the couple believed that due to the no restriction policy in regards to topics and the fact that they had spent so many years cultivating a healthy relationship, this alternative option was worth discussing.
Because so much of the fantasy talk had included other people, they had been able to process their feelings in these role playing rendezvous. Trying it out for real for this couple was a turn on and something they decided the relationship could handle. Once they had the go ahead from each other, the planning phase began. They got on an adult social site and began communicating with other couples and singles. They visited swinger clubs and made dates. "Sure, we had moments when we struggled with fears or jealousy, but we found that swinging had opened a door to a completely new level of communication. No longer were we talking about abstract encounters, we were talking real life." The wife shared that she and her husband were actually talking about matters they had not revealed to each other from such a rooted level, and that swinging had actually deepened their connection.
Another interesting point I learned from speaking with this couple was how they handled the play partners and playing in general. Of course when they first started playing with others they did it together. They would interact with another couple or in some cases another single and when they were done would carry the energy from the interaction into play with each other. She said those "moments of synergy" with others carried over into their bedroom, giving them even more material to pull from for their own intimate moments.
She also commented that as a result of the positive intensity swinging had brought to their marriage, they had even begun playing separately. I asked her how she was able to wrap her head around her husband playing without her physically being there and she said, "Well, I may not be there physically, but I am there mentally." She said for her, the emotional buildup of knowing her husband was being satisfied sexually was exciting. She had learned through the swinging experience that the result of her husband's playdates was the amazing sex she and her husband would share afterwards. She had freed herself from any shame or labeling when it came to her own sexuality. She admitted she LIKED hearing about all the details of his trysts with others.
I watched this couple throughout the evening – the way they engaged with others and with each other. They looked and responded to each other like a newly dating couple! They were attentive and affectionate and could not keep their hands off each other. This was a couple who had been married for over 20 years!!! They had not resigned themselves to one of those couples who put their relationship on the back burner, no, they cared too much about themselves and each other to let that happen. They were engaged and active in the direction of their marriage.
Another couple I spoke with were on the cusp of 20 years together. The husband was eager to share the explosive impact the swinger lifestyle had had on their relationship. He could not wait to tell me that before they were introduced to the swinging lifestyle he was that typical jealous husband. He said, "If anyone even looked at my wife I was ready to throw punches. I would be all up in your face if I thought you were paying too much attention towards her." I asked him how on earth he had broken away from that mentality and his succinct answer: "Happiness in her happiness!" I gave him a skeptical glance, "Oh come on, are you saying it was that easy?!"
No, it had not been an overnight revelation, but being introduced to the lifestyle had been the reason for his change of view. "Being jealous was how I was raised," he admitted. But even though he spent years living under this vice, he found it exhausting. Not only was it draining, he also began to see other negatives to his jealousy. "I learned that my jealousy showed a lack of trust in my partner. I began to see how my behavior was draining her as well. Instead of treating my partner as a trusted companion, my outbursts only displayed the opposite. I love my wife with all I am and I want nothing more than for her to be happy. Realizing my jealousy was taking happiness away from us both was an eye opener. Through love and patience we started our journey into the swinging lifestyle. We met couples and made friendships. Being able to openly share some of our fears or jealousies with other couples and get real honest feedback eased me further and further away from my traditional response."
Like the previous couple, one of the pivotal changes was the deepening level of communication. Now, instead of the knee-jerk jealous reaction, this husband was learning to convey what he was feeling. This opened the doors for affirmation and confirmation from his wife that he was her partner in life and they would be on this journey together. For this husband, learning to let go of his jealousy enabled him to embrace the love he had for his wife and to focus on the happiness their trust for each other was bringing.
This new outlook brought about an amazing transformation within him. As he and I talked, he would smile and tell me how much he loved his wife and how incredible their relationship had become since being introduced to the lifestyle. He and his wife were such proponents of the consensual non-monogamous union that he wished the media could see this side of swinging. "All you ever see about swingers is the sex. But it is what swinging has done for our relationship that is the real deal." He said if it had not been for swinging, he would still be stuck in his old ways of dealing with issues. Instead, he has a completely different perspective. "Oh, the sex is great, do not get me wrong, but it is the communication and trust and compersion (happiness in my partner's happiness) that is keeping us in the lifestyle."
I have to admit, I agree with these couples. I too have seen the benefits from nurturing the swinging lifestyle and melding it into my marriage. I have experienced so many of the same things… those instances when you finally expose your vulnerability through trust, when you can put down the anvil of shame or guilt and be honest with yourself and your partner, when you can focus on your love instead of fear, when you can share those guttural raw moments in deep conversation, and when you realize the most important partnership you have is with the one who loves you for who you are.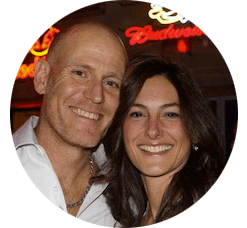 John and Jackie Melfi are in a consensually non monogamous marriage. They have been featured in ABC News Nightline Special Report "Getting Naughty In N'awlins", Inside a New Orleans Swingers Convention, and CNN "This Is Life" with Lisa Ling. The Melfis are the force behind the industry famous colette swingers clubs in New Orleans, Dallas, Houston, and Austin. With over 20 years of combined experience, this powerhouse couple coaches thousands of singles and couples through their award winning blog Openlove101.com.