Valentine's Day is just around the corner! This year, express your love with a sexy gift the two (or three or four) of you can enjoy! John and I are always on the lookout for fun, sexy and engaging products to try with each other and have compiled a list of our top 10 favorites for you to check out. We hope these great gift ideas will get those romantic juices (pun intended) flowing and make this Valentine's Day the best one EVER!
1. Openlove101 Unbound Swinger's Box
This box is full of portable fun that you can easily tote to your next encounter. Begin with your partner pleasuring you with the discrete Crave Vesper and a dollop of silky Uber Lube, then have them move south with the titillating Sensuva Nipple Balm. Finally, turn the tables and apply a bit of Bijoux Indiscret's warming and cooling oral gloss before getting… down to business.
2. Openlove101 T-shirts
Speaking from a woman's perspective, nothing says, "I love you," better than clothing! That's why our Openlove101 tee shirts are perfect for Valentine's day. Both designs display the official Valentine's emblem (oh, the wonderful heart), with the guy's sporting a more cryptic (hint: it's all in the eyes) image. What I particularly love about our women's shirts is the artwork's subtle reference to the lifestyle community. It can be interpreted in different ways and you can nonchalantly wear it everywhere you go, but it always reminds us of compersion and the open love we have for each other.
3. Lelo Adult Toys
What can I say, Lelo is the cadillac of vibrators. They offer vibrators in every size, shape, color and level to satisfy even the pickiest of customers. I'm proud to say I have multiple Lelo toys, all ready and waiting for any variety of exploration and experimentation. I'm also a huge fan of the Lelo cleaning products. If you're going to invest the time and money in these bad boys, you should take the time to see to their upkeep.
4. Naughty in Nawlins Lifestyle Convention
Naughty in N'awlins is the largest lifestyle convention for couples… in the world. With over 1,000 couples, this event is not only a full takeover of one of the French Quarter's biggest hotels, it also takes over Bourbon St. But in order to attend any of the over 30 private parties or get into the hotel, you have to register—you can't book individual nights or just walk into our seminars and private parties. It's a 3 or 4 night full convention package with so much entertainment, parties and fun, you'll want to be there for the entire event. John and I have participated in this spectacular convention for years and we always come (or is it cum) away inspired and excited about the wonderful world of swinging. This is a perfect couples get-a-way with plenty of opportunities to reconnect and even make new friendships while exploring your wild side!
5. Kinky Truth or Dare: Pick-A-Stick Game
Take sexy to a whole new level with this kinky version of truth or dare. Featuring 50 sticks printed with a racy truth on one side and a dirty dare on the other, this game is provocative but approachable, offering a fun and easy way to explore kink. Couples will be confessing steamy secrets and exploring undiscovered desires in no time. Let the naughty fun begin!
6. The Vegan Chocolate Seduction Cookbook: 30 Romantic, Sexy, Playful Recipes for Passionate Chocolate Lovers

Don't let the "vegan" word scare you off from cacao filled decadence! Why not spend the evening together decked out in aprons only, while experimenting with this versatile yet glorious bean?! This cookbook contains thirty dark, decadent vegan chocolate recipes, twenty-six of which are gluten free. Pamper your mouth and body with the book's accompanying "seduction activities" for connecting with your partner in a sexy, romantic, sensual, emotionally intimate or playful way, often while eating your dessert.
7. Knock Knock Vouchers for Lovers
The gift that gives twenty times. Vouchers will express your affection in refreshingly nonmaterial ways. By presenting your lucky significant other with a Vouchers booklet, you empower him or her to request desires from "Candlelit Bath" to "End the Argument." I actually received these fun and idea filled vouchers in my xmas stocking this year from John. I think they're the perfect addition to any special occasion, especially Valentine's Day!
8. Love Is Art Canvas and Paint Kit
John and I had so much fun slathering each other with paint and then getting frisky on the oversized canvas. This is a sexy activity that's completely outside the box crazy. I have never had more fun laughing and kissing while creating a wonderful and memorable piece of art.
9. Good Clean Love Almost Naked Lubricant
John and I bought some of this while on vacation one year and fell in love with the product. Not only does the lube work like a charm, but it contains no harmful ingredients, which is a plus in my book. Good Clean Love Almost Naked Lubricant is safe for latex condoms, toys and use throughout pregnancy; cruelty free and 100% vegan; and contains no propylene glycol, parabens, synthetic fragrance or other petrochemicals.
10. Liberator Heart Wedge Pillow
John and I are the proud owners of one of these pillows. Not only do we own one, but we use it… a lot! My favorite feature (obviously) is the lift this pillow gives me—just the right angle to enjoy those intimate playtimes with John or whoever else happens to be joining in on the fun. Women, if you want to experience lovemaking from a slight, yet delectable angle, a wedge pillow is the answer!
We hope you enjoy these sexy gifts as much as we do!
Happy Valentine's Day!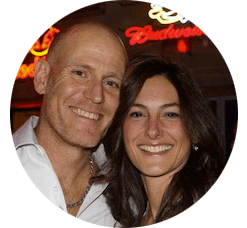 John and Jackie Melfi are in a consensually non monogamous marriage. They have been featured in ABC News Nightline Special Report "Getting Naughty In N'awlins", Inside a New Orleans Swingers Convention, and CNN "This Is Life" with Lisa Ling. The Melfis are the force behind the industry famous colette swingers clubs in New Orleans, Dallas, Houston, and Austin. With over 20 years of combined experience, this powerhouse couple coaches thousands of singles and couples through their award winning blog Openlove101.com.