It's that time of year again. When we pull out boxes from the attic labeled Christmas. Yeah, I know it's not even Thanksgiving yet, but I'm that woman. The woman in a rush for the twinkling lights and memory filled ornaments. I still love driving around on a brisk cold winter evening and looking at all the houses decked out in seasonal decorations. I'm also that woman who is not content with one tree, nope I am usually plotting out spaces in our home to erect one of the almost dozen trees that will stand, proudly draped in lights and baubles.
All this unpacking and maneuvering of furniture, the perfect placement of lights and ornaments can get in the way of my message. The message of love and happiness and joy. I am usually reminded more than once during this time of thanksgiving to slow down and embrace the beauty that is transforming not only our home, but should be bringing a sense of lightness to our attitude. This season of community and family gatherings pulls into focus the importance of seeing each other from love.
The other day, John and I purchased the one live tree we have in our home every holiday. I was super proud of myself, here we were out buying a tree and I was so centered and so happy to just be with my husband that the tree, the very reason we were out shopping, was taking a backseat to the time I was spending with John. I mean, I'm usually the one who is sizing up ALL the trees on the lot.
This one's too tall, this ones not tall enough, too fat, too skinny, too many bare spots…but today, it was all about togetherness and compromise. John pulled a tree from the lineup, "what about this one?" As I stood there looking at my husband proudly holding onto the trunk of the tree he had picked out, I was overcome with love. "I think the tree is perfect!"
That split second, that instance in time was the culmination of what gratitude looks like to me. It wasn't about the tree or the gifts or packages or bows (thanks Grinch) but so much more! Gratitude is about compromise and empathy, thankfulness and love.
I hope everyone will take a moment from the cooking and cleaning and decorating and traveling to clean off the lenses and look at their partner, their kids, crazy Uncle Eddie (thanks Christmas Vacation) to see the blessing and beauty of a gratitude filled life.
Happy Thanksgiving!
Love,

www.Openlove101.com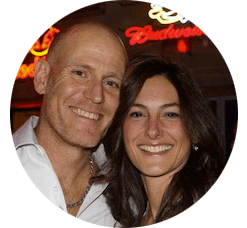 John and Jackie Melfi are in a consensually non monogamous marriage. They have been featured in ABC News Nightline Special Report "Getting Naughty In N'awlins", Inside a New Orleans Swingers Convention, and CNN "This Is Life" with Lisa Ling. The Melfis are the force behind the industry famous colette swingers clubs in New Orleans, Dallas, Houston, and Austin. With over 20 years of combined experience, this powerhouse couple coaches thousands of singles and couples through their award winning blog Openlove101.com.