In this season of giving and receiving, I am reminded how lucky I am to be in such an amazing relationship. Even though John and I have been out and about selecting just the right gift for each other and family, it would be the gifts that are not sitting under our tree that mean the most to me.
While I LOVE seeing presents wrapped and labeled, To: Jackie, the true gifts in my marriage happen daily. Today of all days, is one in which we can take a moment to relish in the incredible benefits a swinging/open relationship can bring to our lives.
Think about the amazing freedom we as couples can share in with each other. The choice to trust in the love we have so that each of us can express our individuality together. We can foster friendships, we can build connections with those around us, which further strengthens the relationship we have with our partner. This is a gift that truly keeps on giving. It is also a gift we give ourselves as much as we give our partner.
And what about trust? Who can deny the incredible gift of trust! The conscious choice we make to trust in the love we have built with our partner. The years we have molded and grown with each other. To the point where our confidence in each other and the relationship becomes the norm. We substitute our fears for knowledge in the truth. This is a gift I choose to open every morning!
Let's not forget the gift of communication. Whether we are cooing I love yous to our partner or sharing our deepest secrets, having someone in our lives who encourages us to speak from the heart is the greatest gift of all. Communication is the space in which we can reveal who we are verbally. I can sit across from my partner and in any given moment I can express my thoughts, my hopes, my dreams, my desires, my excitement, my challenges, my sadness, my everything.
I hope in the hustle and bustle of today, we can all take a moment to unwrap those gifts that fuel our relationship. Those gifts that remind us how blessed we are to be with, who we are with.
John & Jackie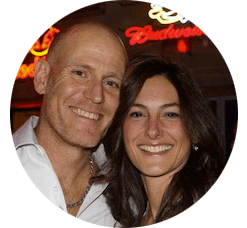 John and Jackie Melfi are in a consensually non monogamous marriage. They have been featured in ABC News Nightline Special Report "Getting Naughty In N'awlins", Inside a New Orleans Swingers Convention, and CNN "This Is Life" with Lisa Ling. The Melfis are the force behind the industry famous colette swingers clubs in New Orleans, Dallas, Houston, and Austin. With over 20 years of combined experience, this powerhouse couple coaches thousands of singles and couples through their award winning blog Openlove101.com.