Well, Naughty in N'awlins that is! John and I have been invited to attend this year's Naughty in N'awlins convention in New Orleans. What's Naughty in N'awlins? I'm glad you asked.
Before I get to all the juicy details, let me give you a little history on the originators of this amazing annual get together. Our good friends Bob and Tess Hannaford are the driving force behind this conformity smashing assemblage. Not only has this dynamic duo been married for over 30 years, they are also true believers in the lifestyle. They work tirelessly in order to bring this convention to fruition each year and have been delivering since the '90s.
A brief peek at the official Naughty in N'awlins website, reveals the love and devotion this couple has, not only for the lifestyle industry, but for each other as well.
The convention has a jam packed schedule with a little something for everyone. Here's just a sampling of what you can expect when you attend:
Swingers' Parade: You can't have an event in New Orleans without a parade! This is one of my very favorite convention events. The pride in seeing 1,000s of couples and singles join forces in solidarity to support our sexual freedom is awe inspiring. It brings a positive energy and validity to this relationship model and reminds me of how far we've come and how strong we are when we stand together in our convictions. I say BRAVO to all of us for remaining firm in our beliefs and staying true to our principles.
Seminars/Classes: Have you ever wanted to learn about erotic breathing? How about a new sexual position? Maybe you're new to swinging and don't know where to start. Have you ever dealt with jealousy? What about emotional attachment? The Naughty in N'awlins convention will answer all these questions and many many more. John and I are honored once again to be involved in this growth producing schedule. We'll have a seminar on how to constructively deal with fear and/or jealousy and will also share the stage with other key speakers throughout the convention, touching on subjects ranging from diversity in the lifestyle and slut shaming to emotional attachment. I know for me, each and every year I attend I come away having learned something new, whether I'm standing behind the podium or sitting in the audience.
Swinger Industry: For those of us who've embraced the swinging lifestyle from a personal and professional perspective, the convention is a wonderful place to connect with other industry leaders. This unified platform encourages those within the professional world of swinging to form a camaraderie with each other; an understanding that when we work together, we can bring about change and legitimacy to this very real and effective lifestyle. I remember hearing "Mrs. Jones" from "We Got A Thing" podcast recently say, "At least when we circled the wagons, we didn't shoot inwards." I believe this is a powerful reminder to all of us in the lifestyle that we are all on the same side… the side of sexual freedom!
Play: Well, this is a swingers' convention after all! What better place to put all your newfound knowledge and techniques to the test than in the company of fellow swingers! The Naughty in N'awlins convention offers a plethora of options in which to play! There will be the ever popular speed dating, designated playrooms within the hotel, dungeons and meet and greets. Of course I'm somewhat biased, but our favorite play place is our club, coletteclubs.com! Colette and Naughty in N'awlins team up every year to provide the hundreds of swinger couples a fun and safe place to play. The club will mirror all the theme nights, so you can rock your Victorian Steampunk attire and all the other fun ensembles in complete confidence!
Bourbon St. Parties: Even for those who've never been to Nola, if you say Bourbon St., they'll know what you're talking about! This famous strip is eye candy to anyone with a bar fetish! Again, Bob and Tess have gone the extra mile in showcasing a different Bourbon St. bar for every day of the convention. These daily headliners will come complete with private parties for those swingers who like to get their drink on!
Annual Lifestyle Awards: To quote directly from the ALA website, "The Annual Lifestyle Awards (aka the "Naughty Awards") give recognition to the top lifestyle Parties, Clubs, Conventions, Cruises, Blogs, Resorts, Podcasts, Websites and much more." That's right! The lifestyle is so loud and proud, we even have our own awards ceremony… I love it! It's an opportunity for swingers from all over the world to cast their vote and make their voices heard. A communal thank you of sorts… a show of support from the swinger community.
If you're anything like me, you want to know the intimate side of an event from someone who's actually been there. Well, I've been there, and for me Naughty in N'awlins is more than the parties and classes. It's more than the seminars and bar hopping get togethers. It's about acceptance and empathy, support and a healthy dose of power! In all the years I've been attending this celebration of sexual liberty, I've yet to come away with anything other than a profound appreciation for the life I've chosen and the people whom I'm surrounded. I've experienced first hand the incredible love and support of those in the lifestyle and have learned to be proud of who I am authentically. I hope all of our readers will be attending this year, but if you can't, then I hope someday you'll have the opportunity to experience Naughty in N'awlins and see for yourselves the power of loving open!
If you can't make it all the way out to New Orleans to join us, then be sure to check out Naughty in N'awlins in Los Angeles and register below!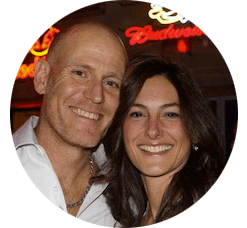 John and Jackie Melfi are in a consensually non monogamous marriage. They have been featured in ABC News Nightline Special Report "Getting Naughty In N'awlins", Inside a New Orleans Swingers Convention, and CNN "This Is Life" with Lisa Ling. The Melfis are the force behind the industry famous colette swingers clubs in New Orleans, Dallas, Houston, and Austin. With over 20 years of combined experience, this powerhouse couple coaches thousands of singles and couples through their award winning blog Openlove101.com.