A few weeks ago, John and I had a gathering at our home. We love entertaining and getting to spend time with longtime friends as well as those, "we just met" friends. During the get together a couple asked if they could use our home as a backdrop for some magazine photos. We were like, "sure!"
When the crew showed up with cameras, lighting, makeup, hair, and outfit changes I was intrigued. I don't think I'd ever seen so much lingerie in one place at one time before. The outfits were absolutely beautiful and the selection spilling out of the suitcase offered every color imaginable. As the women donned lingerie set after lingerie set, I stood back in the wings watching. Oh, to have the confidence and no holds barred courage to dress up in such stunning pieces and gaze into the camera.
John kept asking if I was going to have any photos taken. I was WAY too nervous about being in front of the camera, especially in the context of "sexy" pictures. I'm not a "work the camera" kind of person. I'm much more reserved in a public setting. Getting up in front of the photographer and all the other people was just not something I could ever imagine being able to do without passing out from anxiety. To John's credit, he knew enough to know that if he asked me to do it, I would find it far too easy to decline. So, he had the photographer come into my office and say, "okay…your turn, let's go."
One of the women let me climb into one of the dozens of beautiful lace covered lingerie outfits all the while telling me I was going to do great. "You'll enjoy it, just wait and see." Walking out in the outfit was one of the most vulnerable moments for me. All eyes were on me and all I could think of was what hole I could crawl inside. These other women were so beautiful and sexy, who did I think I was thinking I could be all sultry and alluring for a camera. Ugh! At first John was standing off to the side watching. Nope. "You can't watch…you have to leave." If I had any hope of pulling this off I had to do this on my own without the gaze of my husband. It took me a minute but with the help and reassurance from the photographer I began to set aside my fears.
My entire view of what was happening changed once the photographer showed me one of the pictures he'd taken. "Get outta here," I said in amazement. Seeing the photo altered how I saw myself. Gosh darn it, but I looked pretty good. Maybe stepping outside my comfort zone was a good thing. Maybe, just maybe it was okay to be self full. Notice I didn't say full of self, but instead gave myself permission to be proud of who I was.
I still battle with the lessons growing up about not being haughty or conceited. How basking too much in self was a negative. Today I learned how to loosen my grip on the negative message to make room for self love. I wasn't "showing off," but was in fact showing myself some love and appreciation. I learned it's necessary to love and be proud of your body. It's okay to be like, "hey, I don't look too bad." I realized the public acknowledgement did create a sexy feeling about self. I'd keep that side of myself close to the cuff, being able to let loose a little bit was surprisingly energizing. I'd turned my hesitancy, my fear into excitement. I let go of self consciousness long enough to embrace those few moments in front of the lens. It was a confidence booster for sure. I was given the opportunity to see myself in a different light. To let go of the self imposed restrictions in order to expand my universe.
I'd never done a photo shoot like this before. Had always been way too self conscious. Today, I put down those thoughts in exchange for a lighter, less serious self. I gave myself permission to just have fun. I put down any self judgment and instead picked up my smile.
To make the photo shoot even more fun, I finally conceded and allowed John to join in the fun. The results were a photo of the two of us I absolutely adore! For me, the photo of us represents a physical display of the emotional bond and connection between each other. I'd spent years avoiding these kinds of photos, but today I learned something. Sometimes we need to show ourselves love through a different lens.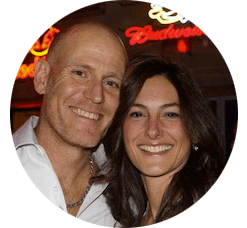 John and Jackie Melfi are in a consensually non monogamous marriage. They have been featured in ABC News Nightline Special Report "Getting Naughty In N'awlins", Inside a New Orleans Swingers Convention, and CNN "This Is Life" with Lisa Ling. The Melfis are the force behind the industry famous colette swingers clubs in New Orleans, Dallas, Houston, and Austin. With over 20 years of combined experience, this powerhouse couple coaches thousands of singles and couples through their award winning blog Openlove101.com.