John and I constantly receive emails and questions from swinger parents who are struggling with whether or not to be honest with their kids about the relationship model they have chosen. Keep in mind, when I say kids, these are children who are old enough to understand different relationship models and are knowledgeable about sex.
John and I have said in previous videos and blogs that parents' sex life is personal, and just because you are parents who choose to have an open relationship does not mean you have to or should talk to the kiddos about what goes on in the bedroom anymore than a couple who identifies as monogamous is going to share their sexual escapades.
On the other side of the coin is the subject of honesty and not being afraid to own the lifestyle you have chosen. It is possible to be open and honest with your children about relationship options. It is even possible to explain to them why a swinging lifestyle is one which you and your partner have decided to pursue, all without revealing graphic explanations and details.
So, what is it like to grow up with swinger parents? We decided to interview Angela, a 21-year-old woman, whose mom and stepdad are swingers. She grew up with parents who were in a traditional marriage and later divorced. Her mother remarried when Angela was in high school, and this new marriage incorporated the swinging lifestyle. We were curious to see what effect (if any) growing up in this environment had on Angela. We would like to share our interview with Angela in order to give you a peek inside what it is like to have swinging parents.
John & Jackie: How old were you when you found out your parents were swingers?
Angela: I was nineteen. My stepdad took me to dinner, and he was prepared to discuss swinging with me because he knew I would wonder why my mom was not joining us. I already had an idea that they were swingers, even though I really did not understand what a swinger was. So when I went to dinner with my step dad, I asked him where mom was and he said she was on a date. This response opened up a dialogue about their lifestyle and what exactly being a swinger meant. I was glad it was just my stepdad and me because I knew he would be honest with me about the lifestyle and his relationship with my mom. I also knew my mom would be more concerned about how I might process the information, making it more likely of her "sugar-coating" the conversation in order to protect me.
John & Jackie: What was your reaction to this information?
Angela: I did not react in a negative way. It was just information. Finding out made me feel more comfortable about asking questions.
John & Jackie: Now that you know, how do you feel about having parents who swing?
Angela: I do not feel any differently about them. They are my parents and I love them. It does not make a difference to me whether they swing or not. I do, however, appreciate how honest my parents are with each other. There is no fighting, only honesty and positive reinforcement, so it is different…better. The fact that they are swingers is just a bonus.
John & Jackie: What are the positives of having swinger parents?
Angela: Well for one, I am much more open with them about my sex life and relationships. I feel like I can really talk to my parents without being embarrassed or feeling like it is an inappropriate subject to talk about. I also get to meet great people because of my parents' open relationship. I cannot even begin to explain how amazing and freeing it is to be around such uplifting people who share the same open mindedness as you do. I have been exposed to both non-swinger and swinger marriages and have never seen such an amazing, honest and beautiful relationship like my parents have.
John & Jackie: Do you think swinging plays a role in this behavior? And if so, how?
Angela: Yes, because you have to be honest with your partner, and this creates a whole different level of honesty. In addition to being honest with your partner, you are honest with yourself, which brings out this completely different level of who you are and who everyone else is, and that is really important to me, especially coming from my history. The more access I have to those in the swinging lifestyle, the more I have really come to love the vibe you get from being around people who really value honesty. No one tries to hide who they are—there are really no secrets when it comes to being open-minded, and that is what I like about it. I feel like I can talk to my parents about anything and everything. If I have questions about this or that, I know my parents will not judge me. If I want to have a one night stand and something happened, I know I can talk to my parents about it. Whereas before, I would not say anything and they would not know. Because my parents are honest, it makes me feel as though I can be honest as well. It makes it much more comfortable to talk to them.
John & Jackie: I can see that a traditional monogamous relationship where the parents are really open and honest with their kids could encourage some of what this young woman is saying, but because it has to do with a swinger relationship, it also involves discussions of sexuality, and so it would encourage or make the children feel more comfortable talking about sex-related issues.
Angela mentioned a one night stand—if it were just an honest monogamous type relationship in which the parents are honest with each other about things but things not relating to sex, that would never be a topic she would necessarily feel comfortable bringing up. I think in that sense what she is saying is that her swinging parents give her more courage and comfortability to talk about issues that have to do with sexuality and sex, in addition to everything else in life. But when you just have really open, loving parents, those subjects may still not be ones that young people would feel comfortable broaching.
John & Jackie: Have you encountered any negatives associated with your parents' open relationship?
Angela: At first I really did not like the whole idea of my parents going on dates with other people. I was still getting used to my parents swinging, so I was kind of uncomfortable with that at first, but that was pretty much the only negative.
John & Jackie: What was the uncomfortable feeling stemming from?
Angela: It was like, so, you go out with this other person and what if something happens and you fall in love with this guy or this girl. Initially, that was kind of scary because I did not understand all the dynamics of swinging. After more conversations with my parents and reassurance from them, I learned that swinging was not about replacing a partner.
John & Jackie: Wow, it is so interesting to talk to a younger generation and see the whole monogamous thought pattern. Of course this is not surprising because it corresponds with how she was raised. The belief that you can only love one person at a time; that you can only be interested in one person at a time. It is interesting to see that her fears parallel the same fears you or I would have—the fear of losing the person we are with—except her fear would be losing one of her parents.
John & Jackie: Have you had any negative responses from people who you associate with in regard to your parents being swingers? Any issues with siblings or co-workers or others you are close with?
Angela: One of my co-workers thinks swinging is disgusting; however, she is not educated about swinging, she just knows how the world labels it. I really did not take what she said seriously, it went in one ear and out the other. All my friends think swinging is interesting and are curious about what it is. Some of them did not even know swinging existed.
John & Jackie: You said earlier that having swinger parents was a bonus, how so?
Angela: I guess because not only do you have parents who are so loving, but you also get to meet other great people who are in the lifestyle. I have become really close to several of my parents' friends, and I know I could call them for support or talk to them about issues I might be dealing with. I have had the opportunity to meet such wonderful, loving people in this lifestyle. Having swinger parents has also opened up another relationship option for me. I do not have to just be with one person. In addition, as I said, you meet amazing people. I have formed some great friendships of my own through a swing club in my area. What I love so much about the friends I have made is the honesty these people possess. They do not hide who they are, so you really get to see them for who they are. That is the bonus of it. I do not just get my parents in the lifestyle, I get all these other people who care about me just as much as they do!
John & Jackie: There will be some people who think that because your parents are swingers and they have all these swinger friends that those friends are going to be interested in you sexually. Have you found this to be true?
Angela: No, absolutely not! I feel like people make swingers out to be these sex crazed animals. I am always like, "Have you met a person, that is what a swinger is…a person." Not one of my parents' friends has ever come on to me. They have always been respectful towards me.
John & Jackie: So today, if someone were to ask you what a swinger is, what would you tell them?
Angela: I like to use the term open-minded, but I would say it is about honesty. Honesty not only with your partner but with other couples and singles as well. It is about having relationships with other couples or singles on different levels, some of which will be sexual.
John & Jackie: What are some lessons you have learned by having swinger parents?
Angela: The obvious thing is swinging! But probably the biggest thing I have learned is the importance of communication. I love how my parents talk things out. Patience and honesty are other important lessons. I love how my parents do not fight. Sure, they have disagreements here and there, but they really try to get to the bottom of whatever the issue is through honest communication.
John & Jackie: What is the biggest misconception people have about the swinging lifestyle?
Angela: They think swingers are sex crazed animals.
John & Jackie: Would you ever consider a swinger lifestyle?
Angela: Looking back I realize that I actually participated in what would be considered swinging before I knew anything about swinging, so yes, I guess I would.
John & Jackie: You grew up in both traditional monogamous and swinger households. What are the major differences between the two?
Angela: Well for one, there is no screaming, no arguments and more communication in the swinger household. It seemed like in the traditional household, there was less trust, less communication, more finger pointing and more fault finding. It was just blah!
John & Jackie: What advice would you give parents who are wondering about how to approach talking to their kids about the swinging lifestyle?
Angela: Do not hide anything! Kids will come around when they are comfortable enough to ask what exactly is going on, and when they do, just tell them. I do not understand why parents feel like they have to be protective over something that they should be honest with their kids about. I guess it is because it comes down to sex. I mean, and this was always a big thing for me, when my mom was married to my dad, we never really had open discussions in which I felt I could confide in them. I always felt like I was going to be "in trouble" because I did this or that. Now, my mom and stepdad are so open and honest with me that I feel like I can tell them about personal things I am dealing with. When you approach your kids with something like swinging, do not sugar coat it, just come out and tell them this is what we do.
I feel like it was better that I had the opportunity to approach my mom and stepdad in my own time. They told me a little bit about swinging, but I really did not know what is was, so I was like, "Ok." But if I was like, "What is that?" then I feel like they would have been honest and talked to me about it.
I cannot imagine any kid freaking out on the parents, probably because I was so OK with my parents telling me, it would be hard to see how anyone would have an issue with someone who is honest. Besides, parents are adults, they can do whatever they decide works for them. I cannot imagine any parent changing their lifestyle because their kids do not agree with it.
Finding out at the age I did was perfect for me. If I had found out my parents were swingers when I was in high school, I might have been more apt to ask my friends about what a swinger was instead of my parents.
John & Jackie: What is so true about this last comment is how younger kids might be more inclined to seek information from their peers. If the information is positive, that is one thing, but if it is negative, a peer pressured teen might latch on to the negative information to form their opinion, especially as we tend to be more of a follower at a younger age. When parents have these conversations when their kids are adults, they are not around those same friends, so it is easier for some kids to make their own decision. Although, I think if parents were going to make the decision to tell their kids before adulthood, it is even more important to be honest with them because they are going to ask their friends and they may not get the right answer.
John and I were thoroughly impressed with Angela's candor and honesty during this interview. We both came away having learned a thing or two about how we dealt with our own kids and the topic of our swinging. We hope parents who are contemplating a conversation with their own kids will find this woman's experience, beneficial if and when the subject of swinging arises.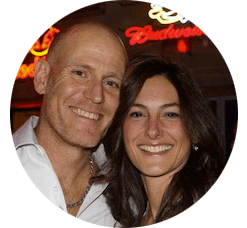 John and Jackie Melfi are in a consensually non monogamous marriage. They have been featured in ABC News Nightline Special Report "Getting Naughty In N'awlins", Inside a New Orleans Swingers Convention, and CNN "This Is Life" with Lisa Ling. The Melfis are the force behind the industry famous colette swingers clubs in New Orleans, Dallas, Houston, and Austin. With over 20 years of combined experience, this powerhouse couple coaches thousands of singles and couples through their award winning blog Openlove101.com.