The very first swingers' club I ever attended was a colette club. I had the privilege of visiting the Dallas location for my "virgin" debut into the world of swing clubs. I was nervous attending colette even though my new boyfriend John was the owner of the club. If you're anything like me, the fear of walking into a "sex" club can have you shaking in your boots. The anxieties can stem from a plethora of reasons, with the most notable for me being my perception of what a swingers' club was.
The first time John suggested I visit the club, I immediately began to sweat. What was I getting myself into? I just knew I was going to attend the club and have to go through some sort of initiation. I would be surrounded by sex fiends and shady characters. Sex would be going on all around me. I had myself convinced that if I attended a club, it would be as if I had been dropped straight into a porn movie. Ugh!
Also, we have a special bonus at the end for you to download your FREE copy of our comprehensive Newbie Lifestyle Club Guide!
Oddly enough, I don't remember being too concerned with what others would think about me attending a swingers' club because I was freaked out enough all on my own to worry about what others thought. This internal tape of negativity was playing in my head during the weeks leading up to my fateful first visit. I say fateful because I was sure my admittance into the club would go down in infamy.
I remember going shopping to select an outfit to wear like it was yesterday. What the hell was I supposed to wear? I was going to a swingers' club after all and I wanted to look sexy, but not TOO sexy. What on earth was that supposed to look like? A short dress? Platform high heels? Lots of makeup? Good gawd, how was it I was struggling with my own sexuality in regards to what to wear?
I didn't want to look matronly, but I also didn't want to look easy. Was that even possible in a swingers' club? Could I actually look too easy? How weird was this? I didn't want to get groped right off the bat, but I also didn't want to be ignored. Wait! What? Did I want something to happen? All the years of indoctrination about how I was supposed to conduct myself as a woman came bubbling to the surface. Could I really pull this off and be okay with me? Was going to a swingers' club too far outside the box?
I was about to find out.
Wearing my new and slightly sexy dress, I walked into colette holding on tightly to John.
Do you know what happened? Nothing.
Well, at least nothing negative. To say I came away from my first club experience a little embarrassed about all the crazy preconceived ideas I had about swingers floating around in my brain would be an understatement. I would come away from this first experience with a whole new respect and understanding of what the swinging world had to offer, especially the benefits a swingers' club can bring to a community. What I hope to share here are some of the valuable lessons and opportunities colette can bring to your own relationship, your relationship with others, and most importantly with yourself.
What to expect? Remember when I talked about being dropped into the center of a porn movie? Don't expect that to happen. (I mean, unless that's something you're wanting to create… then by all means have at it.)
No, what you can expect is to enter a club in which couples and singles meet and mingle in a sexy environment. Notice I said sexy environment, not sex environment. Just because you're in a swingers' club doesn't mean you have to do anything sexual. You can find a spot on any of the dozens of couches, or you might elect to find a stool at the bar and simply visit with fellow clubbers or sit back and take in the atmosphere. You could decide to snag a space on the dance floor, swaying and grooving to your heart's content. The choice is yours… completely yours.
Another thing you can expect from colette on your first visit is a guided tour of the facility by one of the staff. A host/hostess will walk you through the club, showcasing points of interest. The bathrooms, the bar, dance floor, play areas, etc. You'll also receive a rundown on the rules and regulations regarding the club: where you can play should you elect to participate, where single men are and aren't allowed, and what each play area offers in regards to privacy. Feel free to ask plenty of questions.
Since colette is BYOB, you can expect to bring along your favorite beverage. The club provides setups and has buckets on hand to ice down and store your drinks. If you transport your drinks to the club by cooler, the staff will gladly store the cooler in a safe location while you're in the club.
What to wear? Remember how freaked out I was about what to wear? I don't know about you, but my closet was sorely lacking in club wear. I was gleefully happy in my jeans or business attire. Besides, my upbringing had me somewhat reserved. To be able to break out of those limits was a whole new awakening for me. Sliding into that sexy dress and heels was fun.
A favorite part of colette for me was being able to wear my own version of sexy and be accepted within the confines of the club. Instead of getting the "what are you wearing" look from other females in a regular club, colette patrons will encourage your self expression… I love this!
What about meeting other couples or singles? We get this question quite often. How do I meet others in the club? While there are some things that differentiate a swingers' club from a regular "vanilla" club, the introductions are still pretty much the same: "Hi, my name is Jackie. Is this your first time at the club? How long have you been in the lifestyle? I know, I love the club too! Do you guys live here in town? Oh, John and I LOVE to travel!"
Just because you're in a swingers' club doesn't mean you have to lead off the conversation with sex. This nuance can be missed sometimes by those new to the club. I see it with single men especially. The nervousness combined with the "I'm going to get lucky tonight" expectation can have people over thinking their approach. I always tell those new to the club to enter with no expectations.
If you're a couple, come to the club intent on spending a wonderful evening with your partner. I know for John and I, even all these years later, we still enjoy those evenings when we can simply visit with other couples. To engage with others in conversation without restraint or jealousy from our partner can be erotic in and of itself.
To confirm to our partner that we CAN talk, touch, hug, or even kiss others without lessening the love we have for each other is a big step for newbies. These initial steps into the freedom swinging offers can be life changing and love confirming, a process I still find invigorating.
What about security? There's a quote by Katharine Hepburn: "If you obey all the rules you miss all the fun." While I understand there's a portion of the population which looks upon swingers as a whole group of rule breakers, those of us inside the world of swinging know better.
While we embrace the openness of our relationships and push our boundaries further than some, we also acknowledge the importance of rules. We tout phrases like, "No means no" and "Ask first."
We understand that breaking the rules at the expense of others isn't fun at all. We encourage our customers (whether newbies or veterans of swinging) to make sure they have their own rules and boundaries in place before entering the club. Couples who take the time to discuss comfort levels, things like kissing others and what kind of play they would be comfortable trying (soft swap, full swap, etc.), are all ways in which we show our love and commitment to our partner.
Rules and safety are a primary reason why it's important to John and I that colette is staffed with security. We want you to have fun and feel secure at the same time. We want you to come away with positive memories of your time in our club. And we also appreciate when you bring to our attention instances in which guidelines and rules are broken that our staff misses. In today's world of consent and #metoo, we're focused even more on making sure everyone feels comfortable. We never want any of our patrons to feel as though they can't approach staff with an issue, whatever the issue might be.
There are four colette locations at this time and each has its own personality and character. The New Orleans location has more of a lounge feel to it. The exposed brick and high ceilings transport you back to the mid 1800's when the building was constructed. Dallas and Houston have a modern warehouse vibe in which the dance club is the primary feature. The modern sound and lights add to the dance vibe, and when the mood hits you, you can wander on back to the play lounges. The newest club in Austin is still undergoing a transformation at this time. The dance club and play lounges are separated by a second floor with dual balconies that overlook the dance floor and bar area. All of the clubs contain some of the colette branding. Some of the furniture and artwork is the same, which lets you know and feel as though you're in the right place.
Colette has and will continue to offer the best customer service, the most enticing atmosphere, along with a safe and secure place to embrace your wild side. We hope to see you soon!
Download your FREE Newbie Lifestyle Club Guide
Going to a lifestyle club is one of the best ways to meet other like-minded people, but don't make the mistakes that can turn a great evening out into a complete DISASTER. We made this guide from our experience as owners and operators of colette lifestyle clubs to help you be as prepared as possible so that you can have an amazing time, whether you've never been to a lifestyle club before or are a seasoned pro. Download your FREE guide NOW!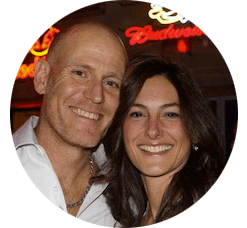 John and Jackie Melfi are in a consensually non monogamous marriage. They have been featured in ABC News Nightline Special Report "Getting Naughty In N'awlins", Inside a New Orleans Swingers Convention, and CNN "This Is Life" with Lisa Ling. The Melfis are the force behind the industry famous colette swingers clubs in New Orleans, Dallas, Houston, and Austin. With over 20 years of combined experience, this powerhouse couple coaches thousands of singles and couples through their award winning blog Openlove101.com.