It's almost Valentine's Day! It's that special day set aside every February to celebrate the love we feel towards our partner or anyone who brings love into our life. As this special day quickly approaches, I can't help but start contemplating what to get John this year. When I say get, I usually mean purchase. How am I going to outdo last year? What gift is going to say I love you?
While I'm never one to turn down a store bought gift, I also cherish the gift of time with my partner. These gifts come from creativity and planning. Sure, it might still cost you monetarily, but those outside the box offerings will sometimes have the biggest return on your investment. And while the following are just a sampling of meaningful Valentine gift ideas, they don't have to be regulated to just one day…they can be given all year long!
Day Dates: Okay, so I'm really stealing this idea from our good friends at Sex Because. This amazing couple recently introduced this concept. While John and I take time out of our hectic schedules to connect during the day, we don't always think of these moments as dates. But I love this fresh spin on spending time with your partner. It doesn't always have to be dinner and a movie, you can load up a picnic basket and eat lunch in the park. Some of my very favorite "dates" with John are when he says, "How quick can you get ready…I want to take you somewhere." These daylight connections will do more then bring the relationship into the light of day, they will give the partnership the "sunshine" needed to grow…I love that!
Love Letters: "Oh, but I can't write!" Bull! Don't you dare buy a card. Take yourself to one of those fancy paper stores and buy some sheets of paper…or hell, just pull out some notebook paper. The point is to put thoughts to paper. Think WWII love letters. Those couples kept the spark alive through words. Describe what it is that your partner does for you. How they make you feel. How much you crave their touch, their lips, their body. Write about how you see your partner—what it is about them that brings you so much joy. How grateful you are to have them as your partner and confidant in life. Really tell them. Be loving…be vulnerable…be real. I guarantee you this letter will be lovingly tucked away for years to come.
Love Book: If a letter seems too daunting, than this idea might be the perfect alternative. I was actually introduced to this idea by one of John's past girlfriends. One year she presented him with a small black book, a tiny journal of sorts. Within its originally blank pages, this woman had written one thing she loved about John on each page:
"How perfectly I fit in your arms when we hug…"
"Your complete, unwavering, unquestionable honesty in all areas of your life, with everyone you know…"
I remember the day John found this little book, unearthed from a box as we were moving. When he shared the contents with me, I was struck by how affectionate this seemingly small gesture, albeit tiny treasure, full of affirmations as to why she loved him was powerful enough for John to carry with him. See, sometimes it's about the little things 🙂
Boudoir Photo Session: No, you don't have to spend hundreds or even thousands on boudoir photos. Some of my favorite memories are those afternoons and evenings when John and I get in the mood to photograph each other. We play around with black and white pictures, the shadows force us to focus on the way the light plays on each others bodies. We have wrapped each other in the soft glow of the evening surrounded by flickering candlelight. We have role played photographer and subject, maneuvering our partner in any number of sexy, erotic, or sensual poses. We enjoy cuddling up together afterwards to view our work.
Fill In the Blank: While there are a plethora of other options to fill in this last item on the list, some examples include love coupons you make yourself, a dinner you both make and feed to each other, a scavenger hunt, and leaving love notes tucked away for your partner to find. I want to hear from you! What special idea have you come up with that you can share with all of us? What hidden jewel have you stumbled upon that left your partner weak in the knees in love?
Regardless of whether or not you spend Valentine's Day showering your loved one with flowers, chocolates, stuffed animals, perfume, diamonds, or notes from the heart, what's important to remember is the love you share that day is something to celebrate every day.
Other AWESOME stuff you should check out:
Disclosure – Some of the links in this post are affiliate links.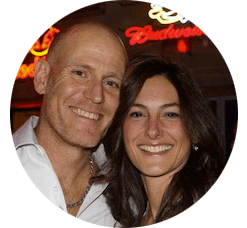 John and Jackie Melfi are in a consensually non monogamous marriage. They have been featured in ABC News Nightline Special Report "Getting Naughty In N'awlins", Inside a New Orleans Swingers Convention, and CNN "This Is Life" with Lisa Ling. The Melfis are the force behind the industry famous colette swingers clubs in New Orleans, Dallas, Houston, and Austin. With over 20 years of combined experience, this powerhouse couple coaches thousands of singles and couples through their award winning blog Openlove101.com.